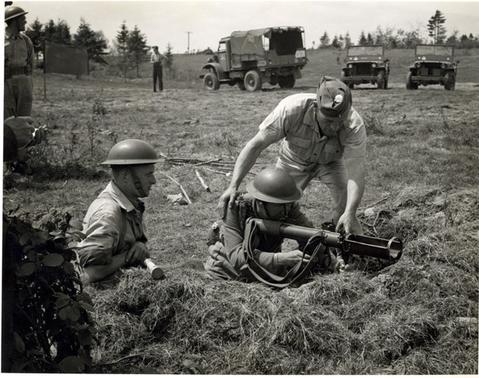 Dénomination générale des documents
Mentions de responsabilité du titre
Notes du titre
Source du titre propre: Museum Created
Cote
CA HM 09.07.00-09.07.04
Mentions de responsabilité relatives à l'édition
Mention d'échelle (cartographique)
Mention de projection (cartographique)
Mention des coordonnées (cartographiques)
Mention d'échelle (architecturale)
Juridiction responsable et dénomination (philatélique)
Date(s)
June 1893, 1905, 1929

(Production)

Producteur
Description matérielle
6 photocopies and 3 original
Titre propre de la collection
Titres parallèles de la collection
Compléments du titre de la collection
Mention de responsabilité relative à la collection
Numérotation à l'intérieur de la collection
Nom du producteur
(1880-1978)
Histoire administrative
Between 1868 to 1876, John Saunders trained his men at his home in Fox Hill. Camps were held there every other year. In 1881 stables were build on the grounds which were to become Camp Sussex. In 1883 the officers built a home. It was called the Cavalry Club House and became the first officer?s mess. In 1893 the Federal government purchased the grounds outright and created a permanent military camp. In that year there was a large camp held with both the Infantry and Cavalry participating.In 1936 they became a motorized cavalry unit. In 1937 a mechanized cavalry unit and in 1938 they became a divisional cavalry unit. In 1940 they switched to motorcycles and became the 4th Canadian Motorcycle Regiment. In Janualry of that year they were given the order to mobilize and 415 men trained in Sussex that year. In March 1941, they became the 5th Armoured Regiment and were sent to Camp Borden, in Ontario to train. Later they went to Debert, Nova Scotia and then went overseas in November 1941. In 1946 the Regiment came home. The train arrived in Sussex on January 27, 1946. The 8th Hussars were back at summer camp that August for the first time since 1940. During the 1950?s training became more concentrated. Twice a year the Regiment conducted concentrated courses to top off their local training. These courses included skills in trades such as driving and maintenance, wireless and gunnery. In the late 1950?s changes were made. The Regiment was moved to CFB Gagetown and Camp Sussex as such was no more. There are still some Militia and Cadets here.
Historique de la conservation
Portée et contenu
Series consists of 6 photocopies (11" x 17") Aerial Maps of Camp Sussex plus 3 original maps . First- "Manoevre Map" dated 1929 and there are two "Vicinity of Sussex" maps dated 1905.
Source immédiate d'acquisition
Localisation des originaux
Disponibilité d'autres formats
Délais d'utilisation, de reproduction et de publication
Générer l'instrument de recherche
Identifiant(s) alternatif(s)
Identifiant de la description du document
Identifiant du service d'archives
Dates de production, de révision et de suppression
Langage d'écriture de la description
Objet numérique - métadonnées
Objet numérique (Matrice) zone des droits
Objet numérique (Référence) zone des droits
Objet numérique (Imagette) zone des droits