Showing 3 results
Archival description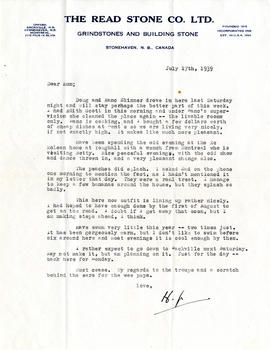 CA PANB MC228
Fonds
1854-1904
This fonds consists of the business records of Wheaton Brothers. It includes 2 day books (1855-1864, 1885-1891) and a single account ledger (1854-1864, 1893-1904). The day books provide such detailed information as names of customers, dates of transactions, goods and products sold, services rendered, amounts charged, and payments received. There is also information pertaining to the hiring of workers, particularly, their date of hiring, term of employment, and wage promised.
The account ledger contains individual customer accounts that provide detailed information on goods and services purchased, amounts charged, and payments received. Frequently, the customer's place of residence is noted. The firm's customers lived in Sackville, Shediac, Amherst, Shemague, Salisbury, Petitcodiac, Coverdale, Tignish, Jolicure, Dorchester, and elsewhere.
The fonds also contains Frank Wheaton's accounting exercise book or work book, which provides information on 19th century accounting practices. He may have been a student in the commercial department of Sackville Academy in the 1870s.
Lastly, there are a few household accounts of Hedley Hicks with Sackville merchants dating to the 1930s, along with a very few household accounts of E. A. Wheaton dating to the same period.
Wheaton, Daniel and Elisha
CA PANB MC251
Fonds
1729-1939
This fonds consists of three main groups of records: the correspondence, memoirs and business records of Charles Dixon (1731-1817); the legal records and correspondence of Edward and James Dixon, with genealogical notes about the family, compiled by James in the 1880s and 1890s; and the records of several local organizations assembled by James while he was an officer of these organizations.
Charles Dixon's records contain a detailed memoir describing his arrival in Sackville with his family in 1772. Correspondence and legal records of Dixon's personal and family business are included, as are records created in his roles as justice of the peace, overseer of the poor, and other public positions. The records give insight into many of the political and religious issues of the time. They include three agreements to buy and sell negro or black slaves, 1792-1795. Also included is the petition of Moses Delesdernier (dated 1780) claiming for expenses incurred in settling and dividing the township of Hopewell from 1774 to 1776. This petition listed expenses incurred for aboriginal women who assisted him in his travels and expenses for housing a Negro in sickness. Dixon corresponded and did business with many of the important political and social figures of the day including Jonathan Odell, Governor Haldimand, Amos Botsford and Isaac Allen.
Edward and James' records consist largely of legal and land documents and family correspondence. James' genealogical notes and correspondence are also included.
There are accounts for the Sackville and Westmorland Agricultural Society, 1871-1872. Records of the Sackville Methodist Chapel, 1816-1890, consist of deeds and financial records about building the chapel and include a history of Methodism in Sackville, handwritten by James Dixon about 1890. There are also accounts of the Sackville Rural Cemetery, 1875-1935.
Dixon family (Descendants of Charles Dixon)(Sackville)