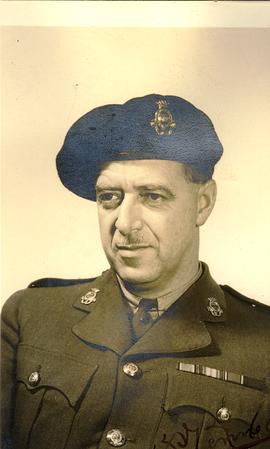 K. S. (Keltie) Kennedy Collection
CA HM 09.14.00
Fonds
1861-1975
Fonds consists of Memorabilia: 5 cm Album. A compilation of photographs and memorabilia that Kennedy titled "A Pictorial History of the 8th Canadian Hussars". This album includes a brief History of the Hussars, 2 pocket diaries. Letters he received while in the service; a casualty list for WW I; One of his passes from WW I; newspaper articles from WW I; his pay books; 2 letters dated 1918; and 2 unused paybooks "Canadian Militia" one in English and one in French.
Service Record:
2 photocopied pages. His Attestation Paper and his Certificate of Medical Examination, May 1916
Articles:
5 Articles, typewritten and double spaced, each individually enclosed in plastic by Mr. Kennedy. Article 1 is untitled and is 950 words. Article 2 Sea Raids is 700 words. Article 3 How the Raider may come to Canada is 1050 words. Article 4 Defense against Air Attack is 1300 words. Article 5Protective Measures by Civic Authorities is 1100 words.
Personal War Diary:
2 bound books approximately 50 pages in each one. Reproduced herein is the complete and unedited personal War Diary of Keltie S. Kennedy. Arranged with the diary are a series of photos found among his personal papers at the time of his death. Each picture has his personal notations of the subject matter shown.
Textual Documents Associations, training , Department of National Defense, Veterans Affairs , Personal Finance, Royal Canadian Legion, Other, Governments , State of the Regiment, Forms, Speeches, Reports World War 2 , Regimental Orders, Command Orders and Pre War Reports.
Kennedy, K. S. (Keltie)