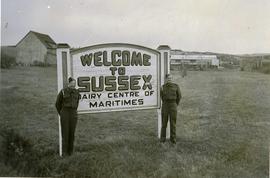 CA HM 09.09.00
Fonds
1940-1941
Fonds consists of:
Album 1. Houser Joining the Army June 1940, On the base at Petawawa, Artillery training, On leave to Ottawa, On the train from Petawawa to Sussex, and Buildings and tents at Camp Sussex.
Album 2. 22 pages of photographs including Rifle practice, general inspection, road-building and signallers training, Fall photos of camp. On leave to Moncton and then Christmas furlough including train trip both from and returning to Sussex.
Album 3. 22 pages Winter of 1941. Lots of winter scenes of camp and the training taking place.
Album 4. 50 pages. Spring 1941, Lots of mud! Photographs included are Trainings and inspection, Trip to Debert, Artillery training and Guns at Sussex and At Camp Tracadie, July 1941. Pictures of Honeymoon June 1941. Boarding the train at Sussex July 19, 1941 en route to Halifax. Troopship in mid Atlantic en route to Scotland.
Hauser, R. J.