Bathurst
Taxonomy
Scope note(s)
Located on Bathurst Harbour in Bathurst Parish, Gloucester County
3 Archival description results for Bathurst
CA FRM MS134
Fonds
1905-c.1911
Series consists of Ethel Anderson's postcard collection.
Anderson, Ethel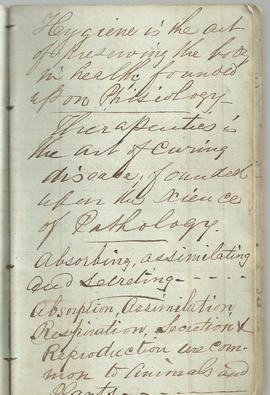 Item is a brown notebook used for keeping notes and record by the Etter family. Includes an index with dates ranging from 1859 to 1917
CA PANB MC351
Fonds
1862-1931
This fonds consists of personal, business, and family records relating to members of the Miller family. It includes personal and family correspondence, 1879-1931 (9 items); an account book for farming operations, 1865-1875; farm receipts, 1863-1878; 11 receipts pertaining to the Methodist Church, 1898; four deeds for sale of land, 1875-1894, and one for the sale of a cow, 1893; and six fire insurance policies on houses in Bathurst, 1884-1896.
Also included are records of the Order of British Templars-Bathurst Lodge, including two copies of a Degree Book printed in Saint John (1867), a copy of a typed speech given by Miller, two books of accounts, and a listing of books missing from the lodge library (1874). There are also printed advertisements for Massey Harvesters and Steinberger Hendry Company globes.
Miller (family)